It's only three days until kick off. One of new writers Gregor Mackintosh gives us all the information from three more Lowland League clubs.
By Gregor Mackintosh
Dalbeattie Star
The 2018/19 Lowland League season saw Dalbeattie Star narrowly avoid relegation to the 6th tier after a fairly underwhelming season which saw the club come in 14th place. Dalbeattie did manage to pull some impressive results out the bag however, especially at the end of the season as they registered 2-1 wins over BSC Glasgow and Kelty Hearts, and a 2-2 draw with Spartans to secure a spot in the upcoming Lowland League season. Dalbeattie will feel they can certainly improve on last season's finish after impressive summer recruitment.
Dalbeattie have managed to retain a large bulk of their squad from last season, with Vinnie Parker, Lewis Sloan, Ross Thomson and Lee Wells being just a few of the main players Dalbeattie have managed to keep at the club who are all capable of helping Dalbeattie to a higher finish. The return of Steven Degnan, Dean Brotherston and Curtiss Telfer along with new recruits Phil Middlemiss, Ryan Gibson who joins from League 1 Peterhead and Robbie Hogg who signed from Lochmaben. Promising forward Declan Tremble also joined the club over the summer.
Despite some great improvements being made, Dalbeattie have also unfortunately lost some key players from last term, with Hugh Cameron, Lewis Todd and Scott Milligan all departing the club over the summer. Hugh Cameron and Scott Milligan were both virtual ever-presents last season, with the latter also being the clubs top scorer last campaign with an impressive 10 goals from midfield, while Lewis Todd led the club for assists with 6 from midfield.
Preseason has been fairly successful, with a 4-1 win over Heston Rovers kicking things off. A 6-3 defeat at the hands of Seaham Red Star followed before a 2-1 win over Threave Rovers got things back on track. A 4-0 win over Lochmaben and a 3-3 draw with St. Cuthbert Wanderers rounded things off.
Player to Watch
Lewis Sloan – Midfield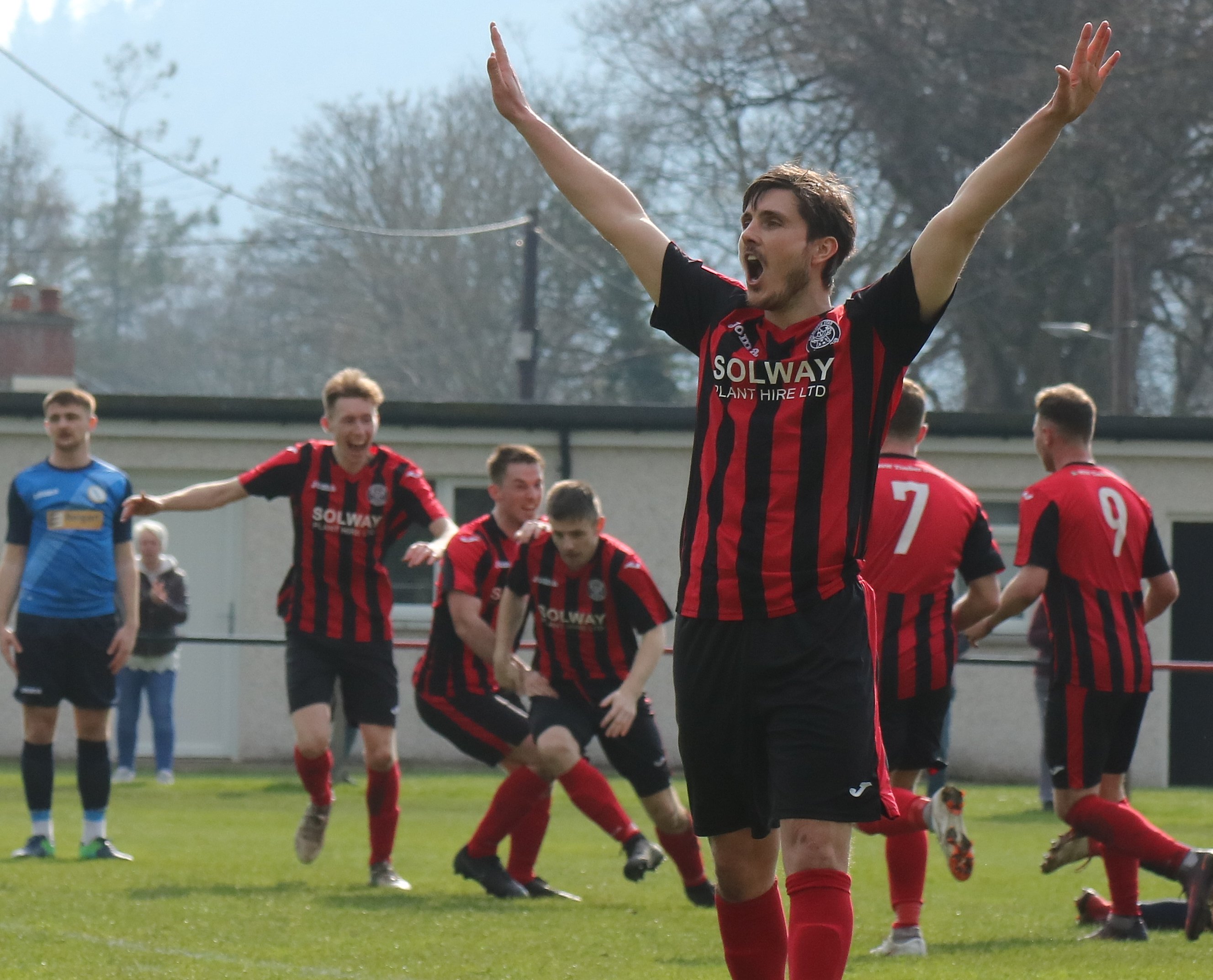 A creative attacking midfielder who chipped in with 9 goals in all competitions last year, Lewis Sloan should be the main man in a Dalbeattie side with a point to prove. Sloan played a large part in the resurgence at the end of the season last term and will be looking to do even better in what seems a somewhat more talented side than last year.
East Stirlingshire
After a disappointing season last year which ended with the club finishing 6th place and saw manager John Sludden and assistant Martin Mooney depart early, The Shire have received a large investment for the upcoming season in a bid to return to League 2 after a 3 year absence. A number of high profile signings have been made in the form of Nicky Low from Queen of the South, Largs Thistle duo Mark Millar and Martin Orr, Bobby Barr and Willie Dyer both joined from Dumbarton over the summer, the return of Jordan Tapping from Brechin City as well as some interesting signings from other Lowland League clubs such as Jamie Dishington from Spartans and Sean Brown from Cumbernauld Colts, not forgetting experienced forward Matt Flynn from Edusport of course along with some other impressive signings. The Shire look to have assembled an impressive squad ahead of the new season.
However, due to these signings it has seen a large clear out from last years side with several key players leaving, including star striker Ross Allum departing to Linlithgow Rose, utility man and fan favourite Graeme McGregor leaving as well as experienced defender Chris McKee who made the move to Civil Service Strollers, not forgetting defender Danny Ashe who signed a pre contract with Kelty Hearts midway through the season. Other players such as Fraser Neave, Simon White and David McCaughie have also moved on to different clubs.
Preseason has been a fairly inconsistent time, with a 4-2 win over Blackburn United kicking things off, before a 2-0 defeat to Highland League Nairn County was followed by a 1-0 win over Camelon Juniors. A preseason tour in Yorkshire came next, with the Shire registering impressive results with a 6-2 win over Frickley Athletic and a 5-1 win against Wakefield AFC. The Shire returned to Scotland where they were defeated 1-0 to Sauchie and held to a 0-0 draw by Inverurie Loco Works. Derek Ure's men kick off the season with an away match at BSC Glasgow on Saturday.
Player to watch
Mark Millar – Midfield
A creative midfielder who is just as capable of doing the dirty work in midfield, Millar looks to be a very impressive and important player who will be The Shire's creative spark in midfield alongside Nicky Low. Millar is also just as good at putting away chances as he is at creating them and looks to be a real threat to Lowland League defences.
Vale of Leithen
Vale, much like Dalbeattie, found themselves languishing in the lower end of the table last year despite an initial decent start to the season as they tallied wins against Gala, Gretna and East Stirlingshire and also managed a draw away to Civil Service Strollers all in their opening 6 games. Things quickly went downhill however as they then didn't register a win in their following 5 games. Vale did however pick up some impressive results including wins against The Shire and a 5-0 dismantling of Cumbernauld Colts, while also picking up points against Kelty Hearts and Civil Service Strollers.
Vale have made some new additions to last years squad, with goalkeeper Andy McQueen returning after leaving the club in 2017. Forward Jordan Easton joined, and attacking midfielder Gary Nicholson followed soon after. Ryan Higgins, Michael Robertson, Callum Hall on loan from Edinburgh City and the return of Tommy Patterson from Gala are just some of the many new faces at Vale.
The departure of Sean Stewart to Penicuik Athletic will be a sore miss, as he bagged himself 12 goals in the Lowland League last season but with the resigning of Brad Rixon at striker and the addition of Easton and Nicholson, Vale will be hoping that these attackers can step up to the challenge and make sure Vale don't have another season of just surviving.
Preseason was successful enough for Vale as they claimed large victories against Hawick Royal Albert and Dalkeith Thistle, draws against Edinburgh Star and Dunbar United, a loss to Penicuik Athletic before a 1-1 draw against Upper Annandale last night.
Player to Watch
Tommy Patterson – Midfield
Tommy Patterson was already a key player for Vale of Leithen before moving to Gala last summer. His return to the club this year however will surely have Patterson being a star figure for Chris Anderson's side once again after bagging 6 goals for Gala last campaign from midfield.