The Scottish Lowland Football League Annual General Meeting took place yesterday evening at the Elphinstone Hotel in Biggar. The meeting was well attended and was, as usual, a lively post-season exchange of ideas.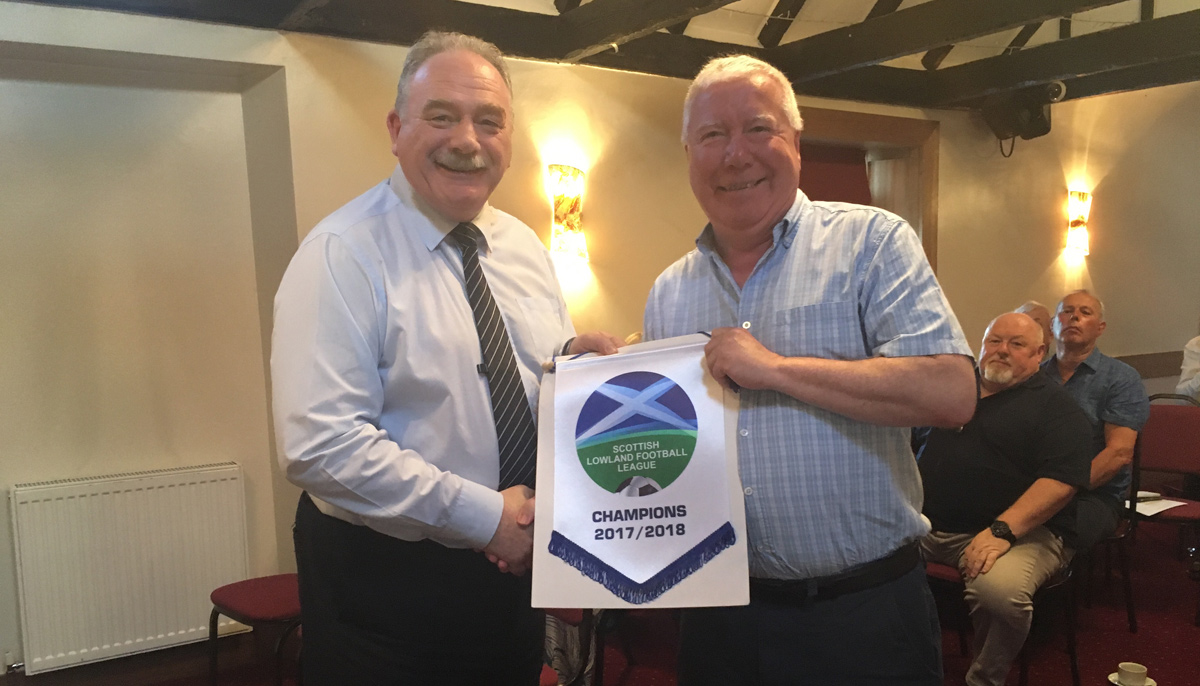 We were delighted to welcome new SFA Chief Executive Ian Maxwell and SFA Vice President Rod Petrie who provided SLFL members with an update on ongoing work within the Scottish football pyramid, changes within the SFA as an organisation, the Professional Game Board and the format of the Scottish Cup. Mr Petrie then presented the League title pennant to Findlay Murray of The Spartans (pictured).
Elections to the board of the Lowland League were also conducted with the positions of Chairman, Vice Chairman and three board members available. There were two nominations, with George Fraser of BSC Glasgow standing against incumbent candidate Andrew Waddell. The election returned George Fraser as Chairman, Dave McKenna of East Kilbride will serve as Vice Chairman while Tom Brown (Civil Service Strollers), Findlay Murray (The Spartans), and Andrew Waddell (Edinburgh University) will also sit on the board alongside its existing members.
The Lowland League would like to take the opportunity to welcome George to his new role and offer immense thanks to Andrew for his sterling stewardship over the first five years of the Lowland League story. Everyone involved with the league is looking forward to exciting developments in the future and we will hopefully be able to bring you news soon.