The Board considered responses provided by member clubs.
Nine clubs wrote to say they supported this recommendation. Three clubs expressed a preference for the season to be declared null and void. This constitutes a majority of clubs in favour of the recommendation. The Board has therefore agreed League positions for season 2020/21 will be decided based on average Points Per Game. The final League table is: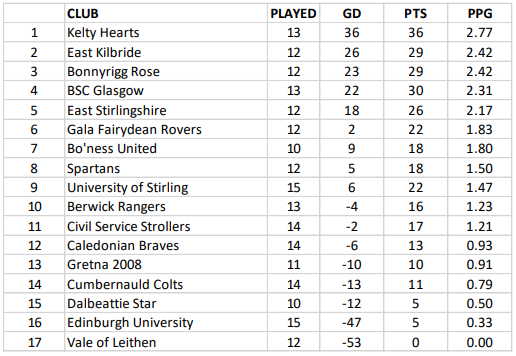 Discussions are ongoing with the Scottish FA, SPFL and SHFL about possible dates for the Pyramid Play-Off competition. All clubs competing in it will, under current Scottish Government requirements, be required to pay for PCR tests.
There are several factors before relegation can be confirmed which includes waiting until the conclusion of the Pyramid and Lower Pyramid Play-Off competitions.
Start date for season 2021/22
The Board has a start date of the weekend of Saturday 17 July 2021.