Edinburgh City were presented with the Ferrari Packaging Lowland League trophy following last nights one nil win over Whitehill Welfare at Rosewell.
The Edinburgh club will be playing in League 2 next season after winning their playoff game against East Stirlingshire.
Fans waited back after the final whistle to watch as SFA Chief Executive Stewart Regan presented the trophy to club captain, Dougie Gair.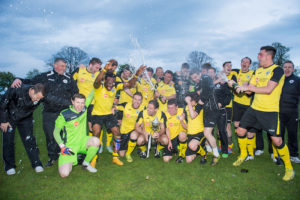 Following the presentation a delighted City boss Gary Jardine said "These boys have worked hard for a few seasons and deserve all the success and their promotion and hopefully we can cap the season off with winning eh South Cup on Sunday.
"There was some worries going into the second leg against the Shire but I put all my trust in the players and knew we were capable of winning it.
"We played well and scored the winner with just a few minutes to go to secure victory – it was a great achievement.
"We now have the opportunity to find our level within the Scottish structure and it's a really exciting time for the club.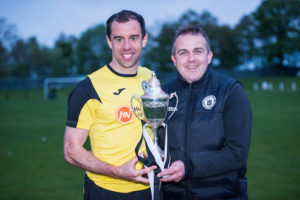 "We always spoke about the chance to play in the SPFL and it still feels like a dream, we worked at it for such a long time and I am delighted we have won it.
"The Lowland League is a great league we have enjoyed our time here and we have many great friendships that we will continue t have.
"There are so many things that are going to change, already we have lots of contact from potential sponsors and other looking at player recruitment opportunities."
Captain Dougie Gair scored the vital goal against East Stirlingshire and last night he was full of smiles as he collected the Ferrari Packaging Lowland League from Stewart Regan.
Gair said "Its not really sunk in yet it will probably take a couple of weeks."The phone hasn't stopped since we won and lots of people have been in touch to say how well we all done.
"We will have the opportunity now to visit new clubs and play against different teams and we are really looking forward to that."
League chairman Andrew Waddell said "Up until its been a theoretical system its been a long time in coming and last year it didn't happen and this year it has so it validates the whole pyramid model.
"We have other quality teams in the league and I am sure there will be other teams aiming to reach SPFL status.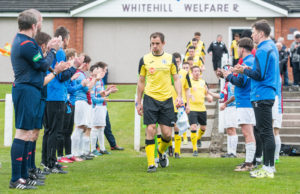 "We have always had the situation where our clubs have been able to play league clubs in the Scottish Cup and the clubs have equipped themselves well for that challenge.
"Now we have shown there is a valid pyramid system and it shows that clubs that work hard can be rewarded by wining their way into the SPFL.
"We are really looking forward to East Stirlingshire playing in our league and I have been very encouraged to hear they are looking forward to next season playing in our league."
Edinburgh City and Whitehill go head to head on Sunday in the South Challenge Cup Final.