Another fascinating week in the GeoSonic Lowland League has seen East Kilbride retake the lead at the top of the table (albeit because their closest rivals were in South Challenge Cup action) and Dalbeattie Star arrest their slide with a creditable draw against East Stirlingshire.
Craig, Martin, and Jordan have the story…
Cumbernauld Colts 0 – 2 Spartans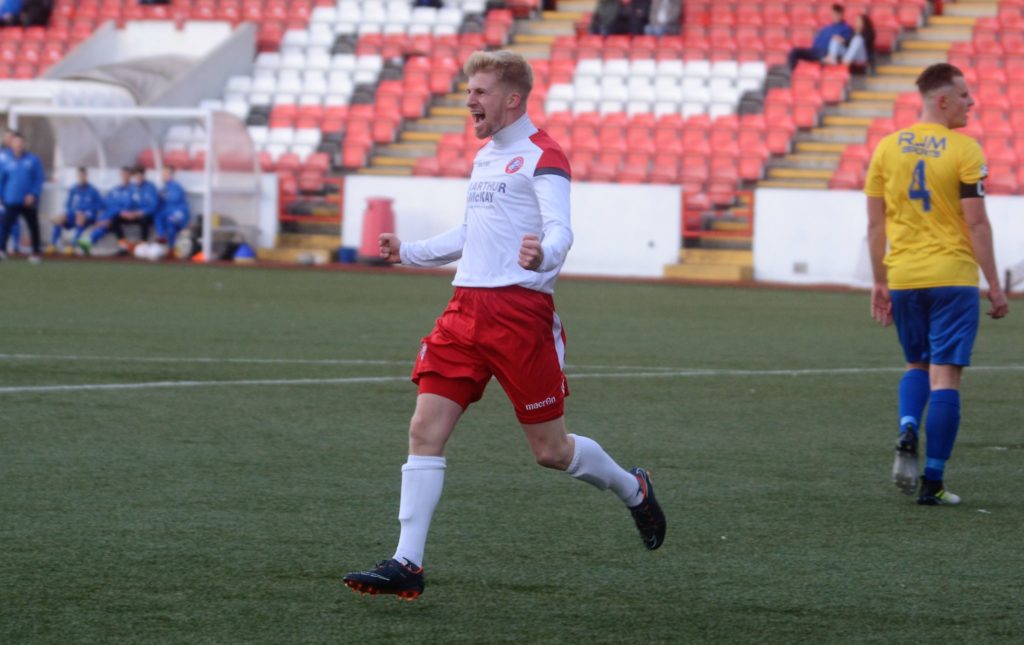 Spartans moved up to third after a Friday night victory away at Broadwood Stadium against Cumbernauld Colts.
The defending champions took the lead after eight minutes when Jack Smith fired home from 20 yards to mark a perfect start for them. The visitors were given the chance to double their lead just before the half hour mark when they were awarded a penalty after Smith's shot struck the arm of Richard Kirwan.
David Greenhill dispatched the penalty to double the lead and despite the home side's efforts, the Colts couldn't find a way back into the match as Spartans moved up the table thanks to their third league win in a row.
---
Whitehill Welfare 0 – 3 East Kilbride
East Kilbride moved back to the top of the GeoSonic Scottish Lowland League as they continued their 100% record this season after an away win at Whitehill Welfare.
Craig Malcolm gave the visitors a perfect start after two minutes when he finished off a neat Kilby move. But Kilby had to wait till the second half to get that all-important second goal and they got it on the 75th minute as Ross McNeil slotted home.
McNeil got his second and East Kilbride's third with five minutes to go to secure the three points when he rounded the Whitehill Welfare goalkeeper and tapped the ball in.
East Kilbride regain top spot in the table from Civil Service Strollers while Whitehill Welfare are still searching for their first point of the season.
---
BSC Glasgow 2 – 3 Kelty Hearts
It was a disappointing day at the office for Stephen Swift's side who were defeated 3-2 by Kelty Hearts in a very entertaining game.
The visitors took the lead in the 20th minute when Stuart Cargill headed home from a Kelty free kick. It took only 3 minutes from the re-start for Kelty Hearts to double their lead, Cargill again heading past keeper Ryan Marshall under very little pressure from the BSC defence.
In the 32nd minute BSC were handed a lifeline when winger Adam Strachan was brought down inside the box, a penalty was awarded and Tam Orr cooly slotted it into the net to score his third penalty in four games. Shortly after half time Strachan was involved again for BSC, the winger leapt onto a weak pass back and made difficult work of beating the Kelty defence before eventually slotting past Scott Christie to tie the game up.
Sadly, for BSC they could not capitalize on their comeback and a comedy error from Ross Smith saw his attempted header back to his own keeper come off the post only for Kelty player Scott Dalziel to rush forward and tap it in with defender and goalkeeper both in no man's land.
BSC will be very disappointed with this result as it was a great opportunity to gain some momentum in what has been a poorer start than they would have been expecting. However, Kelty Hearts will be delighted with a very fine result.
---
Vale of Leithen 6 – 1 Gretna 2008
It was goals galore at Victoria Park where Vale of Leithen ran out 6-1 victors over Gretna 2008.
Gretna entered this game as the high scorers whilst Vale had a poor defensive record, however it was role reversal when the two sides met on Saturday.
It took only 14 minutes for Vale to take the lead when Brad Rixon scored and six minutes later Sean Stewart scored to double the advantage. Gretna pulled a goal back in the 27th minute through Ashley Kelly.
In the 39th minute Vale were awarded a penalty which Paul Dickson tucked away. Less than a minute later and the fifth goal of the half was scored this time by Vale's Marc Berry. With five goals in one half the 63 fans in attendance were certainly getting their money's worth and the scoring was not done as Vale added another on the 53rd minute through Paul Dickson's second penalty of the game.
On the 60th minute it was Gretna's turn to be awarded a penalty however they could not convert. On the 75th minute another penalty was awarded and this time Gretna keeper Jim Atkinson was given his marching orders, unsurprisingly Paul Dickson slotted home to make it a hat-trick of penalties and that wrapped up the scoring.
So just the seven goals and four penalties in this game which leaves Vale level on points with Gretna after five games.
---
Dalbeattie Star 2 – 2 East Stirlingshire
An entertaining draw at Islecroft was a great match up from the neutral perspective but for Dalbeattie fans, it'll feel like a bit of a kick in the teeth as the last nine minutes saw Star lose a 2-0 lead.
Shire went into the game hoping to regain form after Cumbernauld Colts ended their 22 game unbeaten run in their last league match. Darren Kerr's side were ahead after ten minutes as Scott Milligan found the back of the net from a cross to slot into the corner. Dalbeattie tried to hold this lead and defend for the next 60 minutes until they grabbed another when Dean Brotherston capitalised on a shaky Shire defence to hit one on the inside of the post. With only a quarter of an hour left, Star looked like they'd easily be rewarded with a much-needed three points.
Shire did not lie down however, as on the 81st minute, a cross landed in front of Andy Rodgers who volleyed the ball home to make it 2-1. With three minutes to go, one of the League's top goalscorers Ross Allum took a shot from just outside the box and found the net to equalise.
Both teams maintain their positions in the table as East Stirlingshire will be comfortable at 5th, however Dalbeattie Star continue to fight to get out the bottom four.
---
Edinburgh University 0 – 1 Gala Fairydean Rovers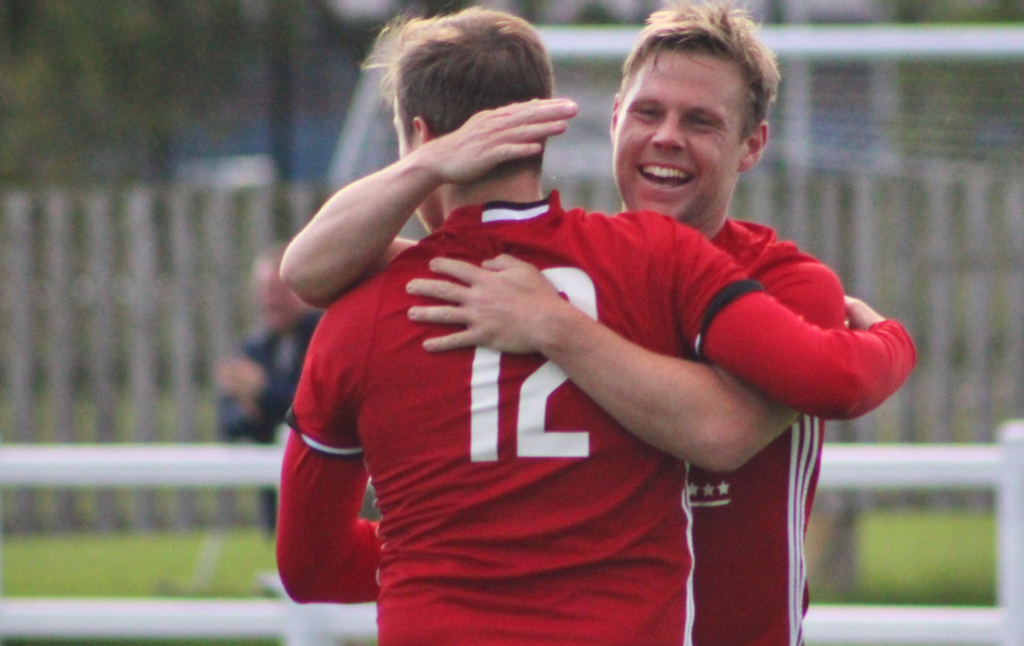 A game at Peffermill that seemed to be stuck in a stalemate was finally broken through late on as Gala gain their first 3 points of the campaign.
Dean Shanks and his men will have had happy travels back to Netherdale as they proved no one can rule them out in their first win. Kris Mitchell managed to get the only goal of the game on the 74th minute.
Despite the victory, Gala remain in the bottom three of the table, however this could be the start of winning ways for the side. Edinburgh Uni fall down the mid-table to 10th position.
---
University of Stirling 1 – 1 Edusport Academy
There wasn't much in the way of controversy at Forthbank as University of Stirling and Edusport played out an entertaining draw on Sunday afternoon, but Scott Ferguson's opening goal for Edusport could go down as a Uni own goal. Some neat play from the Edusport forward saw him play a neat one-two with Marc Kelly to put him through on goal. His low shot came off the foot of Angus Mailer whose contact flipped it over the head of Uni keeper John Allan.
What do you think? I think we'll give him the benefit of the doubt and wait for the referee's report.
University of Stirling's Kieran Hall levelled things up for the home side with a lovely finish with five minutes to go, rounding off a fantastic game of football which – although both sides would have preferred the three points – everyone seemed to agree was a very even game and a strong advert for the League.
---
There's a (nearly) full card of midweek fixtures this week but we'll be back with the Lowland League Preview as usual on Friday, including a quick roundup of those matches. As always, thank you for your support and if you have any feedback on anything we do on the Lowland League website – drop us a tweet!