The South and East of Scotland League champions will commence battle over two legs beginning this weekend for a place in the Lowland League next season. Threave Rovers will host the first leg at Meadow Park against Kelty Hearts, having won the South of Scotland League collecting 73 points from their 28 games, finishing seven points ahead of closest rivals Mid Annandale.
Rovers spent three years in the Lowland League before being relegated in 2016. However, the club have turned things round to get back into a strong position, something coach Michael Houston is proud of: "The most challenging aspect was changing the mentality of players from a losing one into a winning one, so an incredible amount of effort has been put in by staff and players."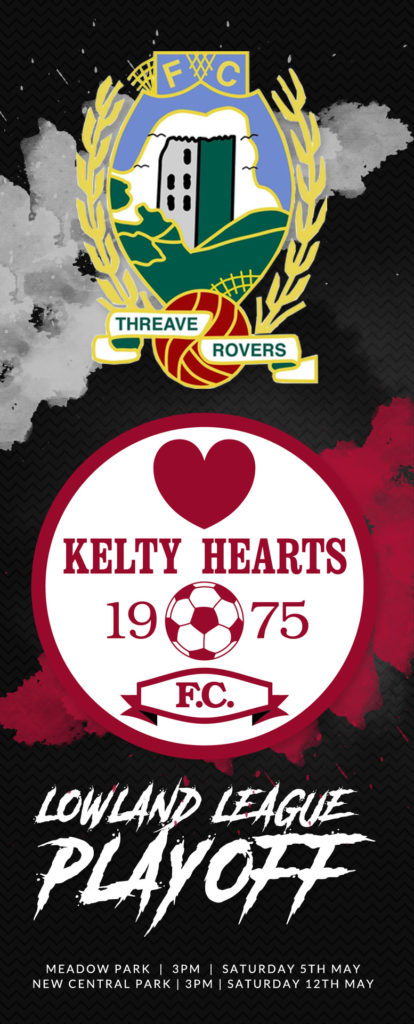 The two sides met earlier in the season at New Central Park, where Threave ran out victors on penalties after a 2-2 draw in the South Challenge Cup. Rovers player/manager Scott Wilby getting on the scoresheet in a victory he described at the time as: "one of the best the club has ever had."
On the other hand, Kelty captain Shaun Greig feels his team are well prepared: "We need to be mindful of the fact they can be dangerous on the counter and have already proved they can get a result.
"With that being said we are completely focused on ourselves and if we approach the game the way we know we can I'm more than confident we will take a good result back to Kelty and ultimately gain promotion."
Kelty were involved in a dramatic title decider against Lothian Thistle Hutchison Vale last weekend which they triumphed 3-1. The league went right down to the wire after both teams remained unbeaten before facing each other back to back at the end of the season.
Those two crunch matches will have almost acted as perfect preparation, with two intense and important games in quick succession.
The men from Fife have been scoring goals for fun and striker Scott Dalziel tops their charts with 38, closely followed by Stuart Cargill who has 36.
Their goal scoring this season has been unbelievable, as they've netted 143 goals in 24 league games, hitting double figures four times in the league and five times in all competitions.
However, skipper Greig believes the whole team contributes to help the strikers. He said: "The whole team are contributing to the games in different ways. Our strikers are scoring lots of goals and our defence has been rock solid.
"The midfield tend to win most battles and our bench is ready and prepared to be deployed at any minute.
"We are a real squad and anyone can play at any time without disrupting the performance."
Kelty have been nothing short of ruthless this term and will look to finish with a bang in their quest for promotion. But they have been caught out in big games earlier this campaign having come up short against title rivals LTHV on three occasions, twice in cups and once in the league but they did get the victory when it mattered most last weekend.
They have already had a taste of the Lowland League, facing Spartans in the Football Nation Cup, but narrowly lost 3-2, however demolished high-flying Selkirk 4-0.
The tie is on a knife edge, and both clubs have more than earned their spot in the Lowland League for next season but only one can make it. Who'll come out on top?
Ones to watch
Threave Rovers: Roman Soltys
The experienced striker has been in red-hot form this season scoring a staggering 48 goals in all competitions. Was signed on a free transfer from St Cuthbert Wanderers at the beginning of the campaign and will be keen to add to his tally in the play-offs.
Kelty Hearts: Stephen Husband
The 27 year old was formerly on the books at Hearts and Blackpool, and has been instrumental in the Kelty midfield this season. He also has an eye for goal having netted 13 goals in his 30 appearances including a hat-trick in a 9-0 win over Coldstream.