The 2017/18 top scorer talks about staying positive after a string of hamstring injuries and is buzzing to get back on the pitch
After moving to Spartans at the beginning of the last season, joining as the league's top scorer in 2017/18 with 21 goals, it was safe to say there was big expectations for 24-year-old Jack Smith.
However, through no fault of his own, Smith has only featured 15 times in the last 12 months due to a recurring hamstring problem, but with him only a fortnight away from returning to playing, he is as eager as ever to get his shooting boots back on.
He said: "I'm buzzing. It's been a tough start to the season for me with being injured previously because of my hamstring but I feel as if I'm getting there and I can't wait to get back playing."
Spartans boss Dougie Samuel has nothing but praise for Jack with the way he has handled himself in what's been a difficult year for the striker.
Samuel said: "Jack's attitude having to bounce back from his latest setback has been first class.  He has worked tirelessly over the past 2 months.  It's vitally important we invest the time and effort to ensure any weakness has been fully addressed."
Smith's career in a Spartans jersey got off to an excellent start as he notched in consecutive pre-season games against Haddington Athletic and Dunipace before competing in the Betfred Cup against the likes of Kilmarnock, St Mirren and featuring at Hampden against Queen's Park. Once that was over, Smith scored on the opening day of the league season in a frustrating 2-2 draw against University of Stirling as Spartans began the defence of their title.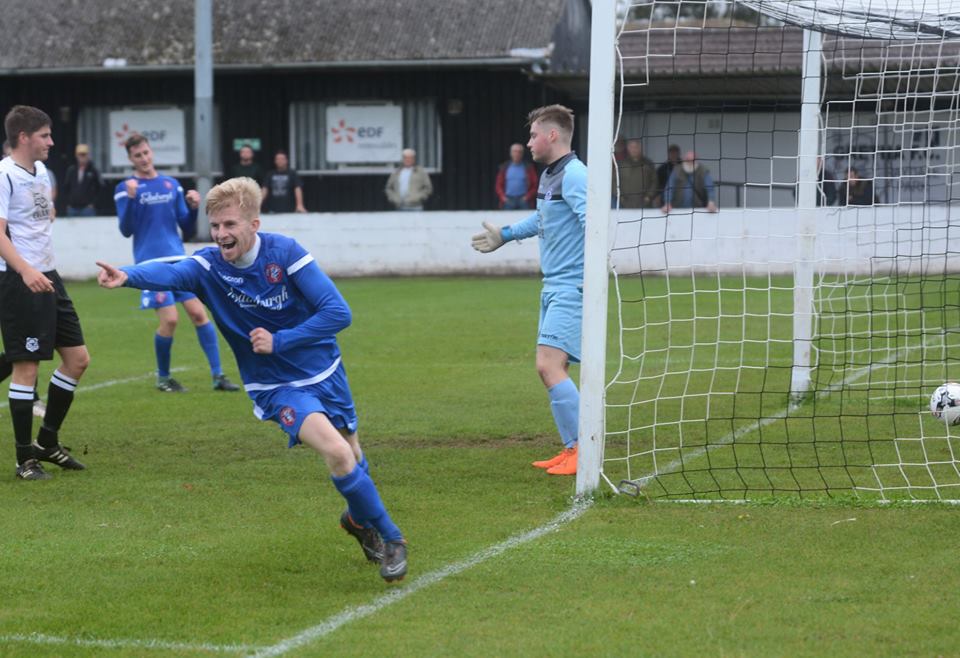 Photo by Mark Brown
After featuring 18 times and scoring four goals competitively for his new club, the 17th November brought the first major setback for the attacker. Spartans found themselves 1-0 down to BSC Glasgow at the Indodrill Stadium before Stephen MacDonald levelled things up. Then on 37 minutes, Smith burst down the right wing and sent a low cross into the box which BSC defender Ross McMillan turned into his own net to give the visitors the lead. But on the stroke of half-time came the start of Smith's hamstring frustrations when he pulled up and was forced off the pitch.
He said: "It was a shock to me. I'd never had bother with my hamstrings before but that was the worst of them all. It was a grade 2 tear which kept me out for some time."
His strong mindset didn't let it phase him though as once he returned to action, he scored five times in 10 matches before an Edinburgh derby away to Civil Service Strollers at the end of March when the injury came back again.
Smith added: "It kind of scunnered me a bit because it's just frustrating more than anything because you want to get back playing and I've broke down the past couple of times. I've maybe been to eager to get back on the pitch and probably not been ready."
The former St Mirren youngster fought back in time to feature in the Football Nation Qualifying Cup Final against Camelon but even the highs of winning a trophy came at an unfortunate expense. With the deadlock still to be broken at the break, early in the second half Smith was forced off with a tweak in his other leg as Spartans went on to collect the silverware in a 2-0 win.
After having the summer to recover, Smith was an unused sub in the glamour Liverpool friendly but eased his way back into things with two substitute appearances before making his first start of the new campaign against Motherwell Colts in the Tunnocks Caramel Wafer Challenge Cup. But 17 minutes into the game, he went down with the same hamstring problem and Motherwell scored what proved to be the winning goal whilst Spartans were down to 10 men preparing the substitution.
Despite his injury troubles, Smith hasn't let it affect him by staying positive, concentrating on his recovery and nears his return.
He added: "You've always got that focus to get back to your full fitness. This time I've took a wee bit longer, I feel a lot stronger and hopefully there will be no more setbacks this time and I can kick on.
"I've added a lot of gym sessions, doing a lot more sprinting and I see the Dundee United physio on a Monday which has been good for me and now I'm back in full training."
Photo by William McGillvray
His manager is also excited to have him back in the fold over the next few weeks.
He said: "It's been great to have Jack back training with the team, technically he's one of our best players.  He's also someone who demands an intensity, a consistency of application and quality from his team mates in training, which for me is vitally important.  It's a huge boost to have him back available"
But Smith is not getting ahead of himself and is aiming to stay fit for the remainder of the campaign and knows what he's done in the past can benefit him.
He said: "I'll take each game as it comes, hopefully go injury free for the rest of the season and score a few goals.
"I done it at BSC, and I done it at East Kilbride, so I know if we're creating chances then I'll score goals. We're a good team that play nice football so I know the chances will come so it's up to me to take them when I get back in the team."