Lewis Anderson spent time chatting to Civil Service Strollers utility man Chris Milligan about his long road to recovery from a career-threatening injury. Here, he discusses his double-leg break, rehab programme, new Strollers boss Gary Jardine and the club's success last season…
Recovering from injuries is part and parcel of football – but there came a time when Chris Milligan thought he'd never kick a ball again.
The Civil Service Strollers player has had to overcome the toughest battle of his career, both mentally and physically. 18 months have passed since Milligan flew into a 50/50 challenge against Gretna 2008 and came off by far the worse.
A fierce competitor, who has never been afraid to get stuck in, it was just in his nature to throw himself into battle and commit to the tackle all guns blazing. Milligan isn't one for shirking a challenge, I'm sure he'd tell you that himself, but by all accounts, this was a freak accident that left everyone watching on shell-shocked.
A sudden clatter of bodies smashing together. Then silence.
Not a single spectator inside Christie Gillies Park on that bitterly cold afternoon last February knew what had just happened, except the man himself. Milligan lay stricken on the turf. The result was a career-threatening double leg break.
He recalls: "We were midway through the second half, and the ball broke loose on the edge of the box. I remember thinking one of our players should've got to it quicker. There was a bit of hesitation between myself and the Gretna player, and I got to it first then that's all I can remember."
"The challenge itself was a bit of a blur. I wasn't sure if it was a bad tackle or just a late challenge at the time, but I knew right away that I needed an ambulance.
"I'm told he got a straight red card, so I knew then it was a bad injury. I felt a searing pain in my right-leg, something I'd never felt before.
"It felt like a lay on the ground for hours until the paramedics eventually arrived. They wanted to carry me off the pitch, but I couldn't move, so the referee made the decision to abandon the game. I've got to thank Robbie Laird and Peter Stenhouse in particular for staying with me the entire time I was on the turf waiting for an ambulance. It was comforting to have them there next to me.
"I don't think anybody realised how bad the injury actually was, especially for a football player to come back from something like that."
Milligan was forced to wait for two hours before the emergency services arrived at the scene. However, it wasn't until days after he was rushed into hospital that the 27-year-old realised the full extent of his injury. The wing-back admits he experienced a feeling of isolation whilst hobbling around on crutches – but was left stunned by the amount of well wishes he received following the incident.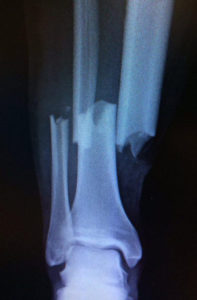 "I remember the surgeon telling me the bone in my leg had gone straight through my shin.  I underwent two operations in the space of a week. It could possibly have been a third because it felt like my leg was going to explode with the pressure, so I had a monitor put in, but thankfully that was all okay.
"The number of messages I received was overwhelming – my phone was going crazy! After about three or four days there were so many messages of support that I forgot to reply to some of them! It has been by far the most serious setback I've ever had. Mentally, I felt quite alone, knowing I faced a long road ahead.
"Spending time off work, not playing football or getting paid and having to watch on from the side lines was quite hard. I lost a lot of weight and muscle as well – it was probably the worst period of my life."
Remarkably, Milligan was back on his feet and in the gym after just six weeks, leaving doctors and physiotherapists stunned at his apparent rate of recovery. The former Spartans and Lothian Thistle Hutchison Vale player had initially targeted a return to competitive action last Christmas after being told by doctors he could get back playing within nine months.
Unfortunately, numerous setbacks curtailed hopes of a miraculous comeback, and instead he has had to remain patient.
Milligan explained: "I was only in hospital for roughly a week and was walking around and driving after six, but I had a lot of complications along the way, which is why it has taken me so long to get back. The doctors took x-rays which revealed the leg was healing perfectly. They said I should be back training within six months and that there was no reason why I couldn't be back playing competitively in nine months.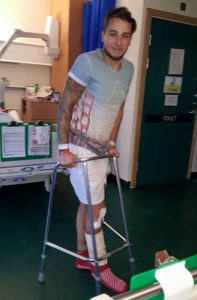 "I was back on my feet and had built up more energy in the gym, which made me feel much more positive about things. I had pencilled in around Christmas time last year to return. Apart from training three times a week, I was usually at the gym every other night, so to not be able to go there or leave the house was torture. It was borderline depression at one stage.
"I joined a rehab class and had the club physio watching over me to help with my programme. I wanted to do the course properly, so that I could come back fitter and stronger. I had another operation around eight weeks ago because the metal work I had done on my knee and ankle was causing me a few problems bending and kicking the ball.
"That set me back a couple of weeks and I then had another twelve weeks recovery."
Milligan however, epitomises the tenacious attitude possessed by every aspiring footballer. Never once did he give up hope of battling his way back to full fitness. Never once did he let his head drop during a gruelling rehabilitation programme. His refreshing outlook on such a horrifying injury is testament to the man's desire and motivation to ensure he returned to a football pitch.
That ambition was finally realised a fortnight ago as he took his place on the substitute's bench for Civil Service Strollers' South Challenge Cup First Round tie against Wigtown and Bladnoch.
A feeling of relief permeated Christie Gillies Park as Chris, his teammates, coaching staff and supporters felt that one of their own was back amongst them.
A steely glare from the returning hero followed a quick pat on the back from a member of the Strollers coaching staff as he took his first steps back onto the lush green surface that had almost curtailed his playing career with fifteen minutes of the match remaining.
That focused expression was replaced by one of sheer delight after the full-time whistle – a beaming smile etched across his face following a 9-0 thrashing of their South of Scotland League opposition.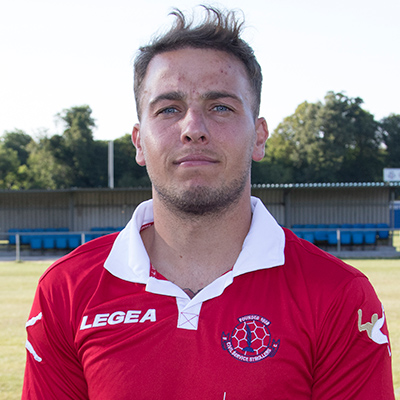 "It feels brilliant to be back out there with the boys again. It's been a living nightmare, to be honest, and I've really missed being part of the squad." He told me after the match, still obviously delighted. "Training feels great. I feel I'm strong enough now to come on and make an impact in games.
"I'm still a little nervous when it comes to match-time. I feel I'm over the worse of it but thinking back to that 50/50 I used to love, it's just a wee bit daunting!"
Undoubtedly, it would be a surreal moment for any footballer to lace up the boots after a lengthy spell on the sidelines, but in Milligan's eyes it was simply a case of getting back to 'business as usual.' He is eager to start afresh as he looks to impress new Strollers boss Gary Jardine and force his way back into the first-team starting line-up.
"Gary seems brilliant and is a top guy to work with. He's brought a lot of fresh ideas to training and I think a change in manager is what the club needed. Alex (Cunningham) was brilliant and we have a very close bond – I appreciate everything he and the club have done for me."
Milligan touched on Civil's success during his absence last season, stating the South Region Challenge Cup final victory over BSC Glasgow has left a real buzz around the club: "Seeing the boys winning the cup at the end of last season was unbelievable. For us to finish in the top half of the table and lift a trophy was tremendous.
"Of course, I was gutted not to be a part of it, but it was great to see. Hopefully this season we can kick on again and finish even higher in the table."
A bubbly character with an attitude to match, it's great to see you back Chris!
---
Lewis Anderson is a football reporter for Football reporter for the Scottish Sun, Edinburgh News and will be bringing us more incredible long-form features from the GeoSonic Lowland League over the course of the season. Follow him on Twitter: @LewisAndo123